Meet the Team
​
Meet Team WISPS. Founded by Brandon, Team WISPS quickly formed from six paranormal enthusiasts looking to learn and explore more.
Brandon (founder and Lead Investigator)- a paranormal enthusiast all his life, founded WISPS in hopes of learning more and helping those who need it. He enjoys outside activities, hiking, fishing, paintball, spending time with his family and all things that go bump in the night.
Mike Z (Lead Investigator)- a member of the United States Army Military Police. He has worked on numerous investigations in his 6 year tenure there. From the time he was 17 he has been interested in the paranormal and have been an investigator for 13 years now. He has a diverse background and look at the paranormal from both the scientific and the spiritual side of things.
Robbyn (Case Manager, Researcher, and more)- a wife and mother to 3. She's always been interested in what else is out there although newer to the paranormal world, can be a skeptic who tries to find the scientific reasons for evidence found.

Matt- "I've experienced enough to know that paranormal entities exist. Now I'm setting out to explore their world." Employed as an environmental manager and safety coordinator. He has been interested in the paranormal since a young age since he grew up in a home haunted by his grandmother. He's still looking for answers about the afterlife.

Mike O- has been working with paranormal groups for a few years now, he wants to help people to understand and overcome their fears of the paranormal.
Helen C- a 32 year young, mom to 5 kids, a tattoo artist. She is interested in the paranormal because she has always had a special gift of interacting with them and wants to investigate to be able to interact more and see what all is out there, and to help make nonbelievers into believers (picture missing).
Scottie- our youngest investigator, who is always up for any investigation and eager to be involved.
Mark- "I can't really say that I have been afraid of what we can't see or don't know. I have always been curious to know what happens when we die though. I throughly believe in Heaven but is it what we believe it to be? What happens to us between here and there? All questions I think we all want answers to."
Powered by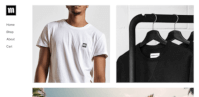 Create your own unique website with customizable templates.